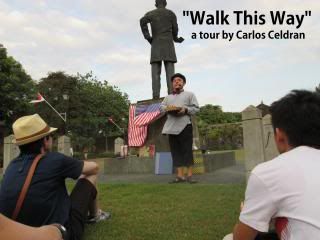 He announced his arrival with a boom and a lilt in his voice.
But as we came up to him from different directions to that spot near the main gate of Intramuros with crazy vines crawling up the trellis, he turned mute. Then he let his hands---two vital tools of his trade---move like fish tails to tell us where he wanted us to converge.
It was a searing April Saturday afternoon and there in front of us was Philippine's world-famous walk-tour guide, Carlos Celdran. He was wearing a mic, a black bowler hat, a maroon bow tie, a modern commercial barong Tagalog over sakada pants, and rubber slippers. By his feet, resting on the pavement, were a portable boom box and a bayong made of plastic straw that contained folios of old photos---nay, reproductions---that he himself would later carry and use to recreate via brilliant storytelling the Manila of old.
[Spoiler alert from here on.]
This tour requires a sense of humor, he said. And with that, he fished from his pocket a small Philippine flag, waved it, and made us sing "Lupang Hinirang."
For starters, Celdran shared the origin of why Filipinos refer to things by their brand names. And to the chagrin of foreigners, the moment turned into a class recitation with Celdran saying "photo" and us shouting "Kodak"; "tissue"-"Kleenex"; "toothpaste"-"Colgate"; "photocopier"-"Xerox"; "soda"-"Coke".
And then he showed and explained the presence of the chimera---the mythic creature composed of the parts of three animals: a lion, a snake and a goat---in the seal of early Moro settlers, in the seal of Malacanang Palace, and in the seal of San Miguel Brewery. And in a gripping theatrical voice, Celdran said: And Philippines, like the chimera, is an----illusion!
He uttered the word "illusion" with a flourish and a shower of santan flowers that nobody noticed he was clasping in his hands. The timing was perfect and unexpected it caught us by surprise.
So: early on we had our first taste of Celdran's legerdemain that would pepper his walk-tour, making it more gratifying than it already was.
Technically the walk-tour hadn't begun yet, but by this time, the crowd with more aliens than locals already had a sense that this was going to be a thrilling and different ride.
Foreign tourists are often told to skip Manila, a place with no soul, no center. Carlos Celdran's "Walk This Way" tour is his attempt at changing this mistaken notion through a method that is entertaining, funny, and passionate. Very much like watching history on rewind via a stand-up comedy act.
Carlos walked us through the colonization of our country by the Spaniards and the Americans with a tour de force theatrical performance. I had my camera, my notebook, and my pen with me, but I ended up not using any of them as I hung on his every word. To repeat, it was simply impossible for me to peel my eyes off him.
Carlos changed outfits depending on the era he was sharing. At one time he was Uncle Sam with the iconic tall star spangled hat; other time he was Gen. Douglas McArthur.
The part of the tour about the war between the Japanese and the Americans was highly emotional. The stories of the bombing of the Pearl Harbor and Manila that left over 100,000 people dead were told and performed inside a cavernous theater that was once a bunker. Here Carlos relived to us the horrors and the secrets of the decimation of Manila as Pearl of the Orient in a performance that gave everybody goose bumps. To this day, Manila has never really risen from the ashes of destruction wrought by its colonizers, he said.
From the military hat to the aviator shades to the pipe to the swagger to the quivering mouth to the twang and to the guttural voice uttering "I shall return", Carlos had McArthur down pat. And here he shared the real story behind the famous Leyte landing the "choreographed" photo of which had made it to the cover of Life magazine. To my regret, Gen. Douglas McArthur was demystified and the pedestal on which I had put him was completely shattered.
And with his back to us, he also reenacted the bloodshed the Japanese soldiers wrought by raiding hospitals, killing men and women and throwing babies up in the air and catching them with bayonets and swords. And when finally Carlos faced us, his eyes were red and flaming. We knew then that like us, he still felt outraged.
But just as everything was about to turn too heavy for comfort, he provided a comic relief via his witty one-liners.
Carlos Celdran is sui generis.
It was almost dusk when horse-drawn carriage took us to San Agustin Church, Philippine's oldest stone church and the only one among the six churches and one cathedral that survived the Manila bombing.
To wrap up the tour, Carlos treated us to some halo-halo across the street, in a boutique [yes, boutique] called, "The Crazy Nun". And there he explained why Filipinos, like halo-halo, are a mish-mash of cultural influences. And so, like a chimera he said, being a Filipino is an---illusion!
And with a sleight of hand, another shower of santan.
Carlos Celdran is a class act. He does voice acting like no other and elevates it to a form of art; he bangs the hard plastic cover of his folios with his palm and makes the sound of popping wine [his favourite I think] to precede or stress a point; he yells, whispers, whistles, sings, and raps some of his lines; he prances and does slapstick and vaudeville. And his English is flawless; his enunciation, impeccable.
Go for brilliant storytelling and retelling of the history of Manila and the Philippines from a master showman-cum-tour guide.
The "Walk This Way" tour runs for about three hours and costs P1,100 which one pays on the day of the tour. Check the tour dates on the blog of Carlos Celdran.
Sign up. Now!